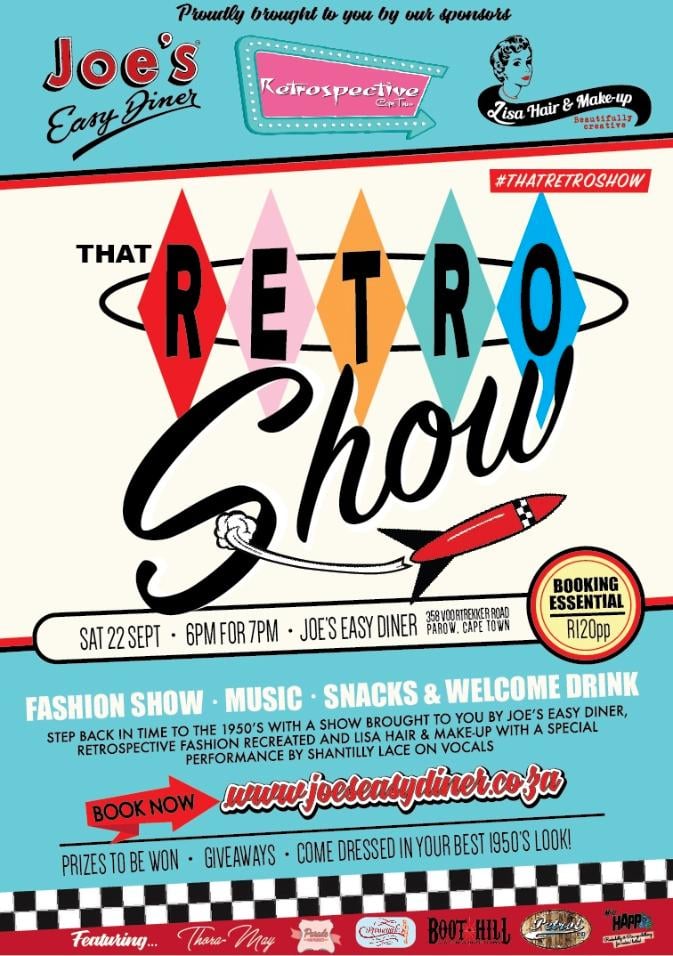 THAT RETRO SHOW on 22 September 2018
Hurry up! Number of tickets limited!
Price: R120
JOE's EASY DINER PAROW
358 Voortrekker Road, Parow, Cape Town (at New National Lodge)
parow@joeseasydiner.co.za Tel. 021 911 2136
Details:
Take a Step back in time the the Fabulous Fifties with "That Retro Show" proudly brought to you by Joe's Easy Diner, Retrospective Fashion Recreated and Lisa's Hair and Make-up.
That Retro Show brings you a fashion show filled fabulous 1950's style clothing, accessories and more as worn by some of Cape Town's most vibrant and fun pin up dolls and Rockabilly guys. It's time to dance in the aisles and head back to the era of the classic Diner, finned gas guzzling cars, Fluffy petticoats, flared skirts and slicked back hair!
On the night you will also get to hear classic Rockabilly tunes sung by the talented songbird Miss Shantilly Lace as well as rocking tunes by our DJ.
On arrival each guest will get a welcome drink as well as an array of light finger snacks from our Joe's Easy Diner Food Stall.
Dress in your finest Retro Pin Up and Rockabilly threads - with Best Dressed prizes on the night you won't want to be that drab wall flower! Also, keep a look out for our lucky draw prizes on the night too.
All bookings are for the INSIDE of Joe's Easy Diner and are seated at tables. All seating on the night is first come first to be seated, so please be there early to secure your table.
Thank You to our show sponsors: Joe's Easy Diner, Lisa Hair & Make-Up, Retrospective, and our Brand Partners: Petrol Clothing, The Roknbellas, Thora-May bespoke, Promenade, Sunkissed Photography, Shantilly Lace on vocals, and The Jackie-Oh!s spinning the decks
Wanna know what to expect for THAT RETRO SHOW? Let us introduce you to our official Retro Show sponsors, and the hard working guys and gals behind this rocking show…
JOE'S EASY DINER: Well, Hello Joe! Joe's is a much loved retro-American style diner in Parow and will be our location for the event. At Joes we are about bringing that 1950's story to life with delicious food and your favourite olde school drinks! Take a seat, enjoy the music from the jukebox and place your order - Joe's is open for business and the story continues...
RETROSPECTIVE: Say hello to our 2nd show sponsor! Retrospective, our show producers take us back to days gone by, to a time when cars were pink and rock 'n roll was born, looking swell. Retrospective is about recreating fashion inspired by the 1940's, 50's & 60s. Retrospective sells ladies and Men's clothing classified as vintage, retro, vintage reproduction and rockabilly with accessories and grooming products to match.
LISA HAIR AND MAKE-UP: Lisa Hair and Make-up Beautifully Creative 50's inspired hair salon. This new Retro inspired salon will be the hands and talent behind the scenes making sure our show models are looking their pin up best on the day. Get your red lipstick out ladies, Get your hair greased guys…we are coming for you!
Hurry up! Number of tickets is limited.
Price: R120 pp
JOE'S EASY DINER PAROW
358 Voortrekker Road, at New National Lodge
parow@joeseasydiner.co.za
Tel. 021 911 2136